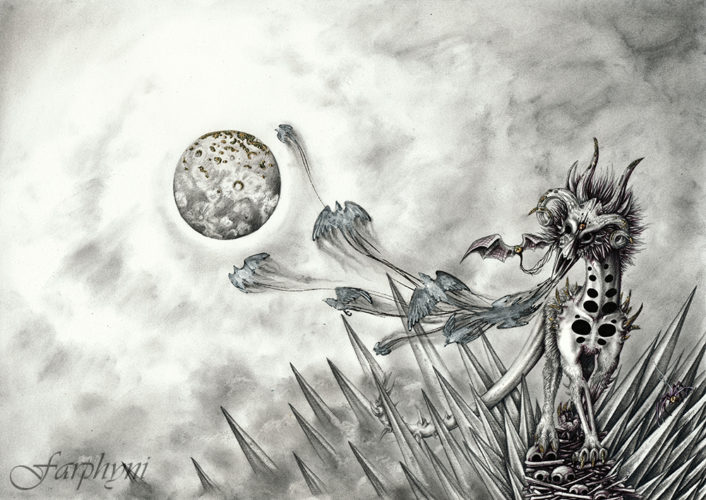 Amon – Der Whisperer
->>Größe: A4
->>Materialien: Graphit, Bleistift, Kugelschreiber, Tusche, Blattgold (Imitat)
->>Fertiggestellt: 18.2.2016
Dies begann eigentlich als kleines, experimentelles Werk, da ich mir vor ein paar Tagen zwei neue Zeichen-Tools gekauft habe: Blattgold (Imitat) und Graphit. Während ich meine Hände auf dem Zettel freien Lauf ließ, formte sich ein alter Bekannter darauf, fordernd ihn wieder zu zeichnen, nach meiner Aufmerksamkeit verlangend. Mit seinem wispern meine Gedanken füllend.
Endlich, nach circa zwei Jahren, hat er, der Whisperer (einer meiner Inneren Dämonen) seinen Namen offenbart: Amon.
AMON – The Whisperer
Under this crushing weight, I'm sinking
It never goes away, the thinking
Echoes in empty rooms decaying
Alone to face my demons.
How can I sleep at night, with your Whispers in my head?
"I am a demon, and you are dead"
As far as I can run, you'll follow me
Turning around, you're the only one to see
Why am I torturing myself?, I yell.
Inhaling all your Whispers
Like a breath of fire sent from hell.
Fixated on these memories
Like a prisoner inside a cell.
Cannot hide from you, not even in a thousand years.
Your eyes never lose sight of me, never decay.
I'm asking you, why you let me face my darkest fears,
all you say is "'Cause I'm a demon, and a demon I'll stay"
'Cause I'm a demon born from things you cannot see.